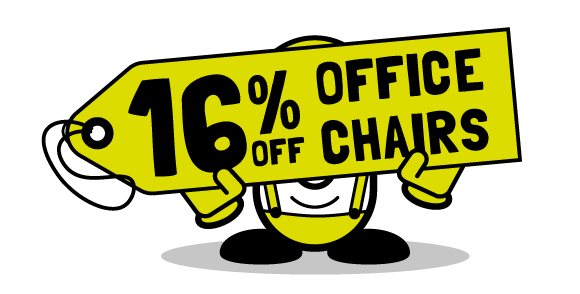 Did you know that in 2015-2016 the Health and Safety Executive's Labour Force Survey revealed that workers took off an average of 16 working days each due to musculoskeletal disorders. Which means that the efficiency of many businesses and people's health suffered as a result of something that could, in many cases, have been avoided. Just by checking the workstations and the chairs your employees use could help to reduce this statistic – ensuring better health for them and a better attendance rate for your business.
To help you support your staff and keep an eye on the pennies at the same time – we have a fabulous range of office chairs available in our Office Furniture Solutions 2017 catalogue and for the whole of August if you order one (or more!) from us – we'll give you 16% off.
To take advantage of this super duper big summer savings offer – request our NEW 2017 office furniture catalogue today.
If you prefer you can call us on 01933 460422 to request a copy or chat through your requirements. But remember this offer is only open until midnight August 31st 2017.

We've got everything you could need
It's not just chairs! You'll be delighted to know we also stock an extensive range of quality hard wearing products to suit every space and budget including desks, pedestals, cabinets, partitions and storage systems, to conference, reception, break out room furniture and accessories for your cloakroom, and kitchenette/canteen furniture too. We also pride ourselves on offering products that aren't just functional, but that look good too.
Wondering why you should buy from us – here's some reasons why we think you should:
We offer an office design and space planning service to help you get the most of your space, no matter the size
We don't just deliver your furniture to you and leave – we unpack, build and move it to the exact place you want it too
We don't leave behind any mess. We take away all the packaging, leaving you with your brand new furniture and nothing to do except sit back and start using it.
All you need to do now is choose from the many different options we have available…And if you place an order in August from our office furniture catalogue, we'll give you 16% off the qualifying products.
To take advantage of this offer – request our NEW 2017 office furniture catalogue today!
If you already have our latest office furniture catalogue, or would prefer to speak to us first –  call us on 01933 460422. But remember this offer is only open until midnight August 31st 2017.
Terms and conditions
*Discount only applies on orders/items from our 2017 Office Furniture Solutions catalogue. Items included in the discount are found on pages 78-107.
Orders must be placed before midnight on August 31st 2017. Delivery to UK addresses only. All orders must be placed directly with Cubex Contracts. This offer is not to be used in conjunction with any other special offer, discount or promotion.