When family run business, Barton Telecom Services asked us to work with them to fit out their new premises in such a way it could adapt to future growth we were delighted to help.
What was the brief?
Moving from a home office to a brand new unit gave this customer the opportunity to think about what they needed for the business both now and in the future, their list of requirements included:
office space

testing area (fresh air circulation needed)

secure internal parking

corridor to allow access from front to back of the unit
The biggest challenge was how the space could be designed in such a way it could be changed easily if need be in the future.
What was the solution?
We put forward a plan to maximise space potential and give the customer everything they required, including:
ground floor partitioning which was a fully demountable and reusable system

corridor with panels to allow for flow of light

first floor mezzanine to make best use of the unit height and allow for internal parking space

as much additional space as possible, including a small kitchenette area
Before the project started we applied for Building Regulations approval and we also organised a final inspection on the completion of the work. Our team of contractors comprised of partition fitters, decorators, ceiling fitters and mezzanine installers who worked along side the customer's own electricians.
Project photos:
For more photos and further details on this project: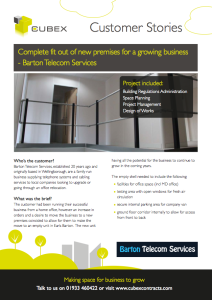 Need a unit or premises completely fitting out to create a flexible working space?
Cubex Contracts are specialists in space planning, intelligent design and "hassle free" installation projects. If you need to move premises and would like professional help making a space for your business to grow we can help.
Contact us in 01933 460422 to discuss your requirements.