Following on from our first blog in our "Colour at Work" series we wanted to take you through the process of choosing colour to create a meeting room with a calm and quiet feel.
Is a calming meeting room feel right for my business?
There are many different uses for a meeting room. Some rooms need to have an air of creative energy because they are often used for brainstorming meetings for example, while others need to give the impression of a quiet calm space where people feel they can communicate comfortably and privately.
If your business falls into one of these sectors below, you are likely to want a meeting space that creates a calmer environment:
Insurance
Wealth and Investment
Banking
Accountancy and Tax
Legal
Management Consultants
and so on…
Of course this will also depend very much on your brand personality as well, but generally speaking businesses in these sectors often veer away from bright creative energetic spaces where they might sit down with customers or hold internal meetings.
How do I put my calm colour palette together?
Once you have decided on a calm colour palette you need to know what kind of colours that includes. In our first blog "How can I use colour to create the perfect workplace environment" we shared a colour wheel with calming colours – here it is again below:
The range of colours here is quite varied, but what they all have in common is their tone – they all could be described as calming shades of their basic colours. Whatever your corporate brand colours are (including variations of them or colours that will complement them) they can be found here somewhere.
But there is more to it than just picking matching or complementary colours to your brand. We also want to consider the overall feel we want to create in the meeting room itself, and we can alter that feeling by how we "balance" the use of the colours we choose.
Getting the right balance of colour
You have to ask yourself "What kind of conversations are most likely to occur in this room and how can the presence of colour help or hinder those interactions?"
Let's look at some examples that both use blue, white and brown:
Example 1 – a safe calm space where communications are often of a personal and emotional nature.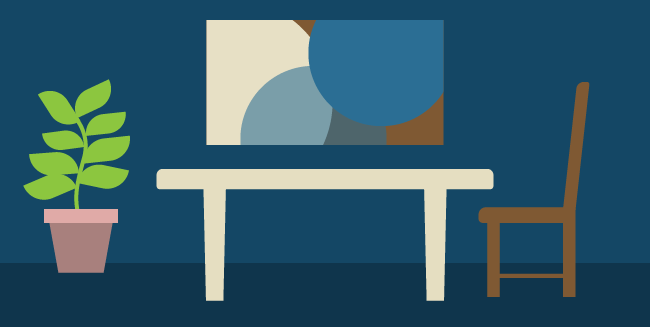 Walls – dark blue (to represent safety, solid advice and trust)
Furniture – off white and tints of browns (calming honest and soft shades that also give a lift of colour in what otherwise could be a dark room)
Accessories – off white, blue, tints of blue and shades of brown for items such as wall art, sculpture, table accessories, plant pots etc (a mix of your room and furniture palette to bring it all together)
Example 2 – a brighter corporate space where communications are more of a planning and growth type scenario.
Walls – off white (to give a lighter and airy, but easy on the eye feeling – a corporate tone)
Furniture – natural wood tones/browns (honest and natural finishes to denote strength and warmth)
Accessories – dark blues and white for items such as wall art, sculpture, table accessories, plant pots etc (a mix of your room and furniture palette to bring it all together, with the added inclusion of greenery to represent nature and growth, optimism and a positive future)
How can Cubex Contracts help?
So you see when it comes to putting together your ideas for a calming and quiet meeting room space you need to consider your own brand colours, the colours which create a calming feel and how you balance the use of those colours to create the final overall feel.
The design team at Cubex is experienced in taking all those elements on board to create the right look for your brand as well as creating functional spaces that really work for you, your team, and your customers.
If you would like to speak to us about your next refurbishment project or just need help with new office furniture that's "on brand" then get in touch with us today
- Cubex Contracts 01933 460422 -