National Accident Helpline, based in Kettering, is the UK's leading provider of personal injury services.
After a decision was made to re-locate, they needed to hand back their premises (consisting of three large buildings), and appoint a professional experienced contractor to complete the urgent and large-scale dilapidations project.
Cubex Contracts were appointed as the Principle Contractor and we were able to complete all works (plus extras!) within the deadline, with the help of a team of highly skilled contractors and in-house support administration team – all expertly co-ordinated by one of our dedicated Project Managers.
Works included:
removal of partitioning
painting of all walls, door frames and radiators
fitting of new carpet
removal of two kitchens (including all pipework)
fitting of new suspended ceiling
removal of painted "N" markers across eighty parking spaces
specialist clean up of all buildings
To find out more about the project and how happy the customer was – you can download the customer case study here: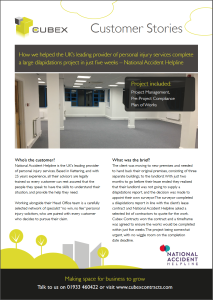 If you are coming to the end of your lease, or preparing to relocate your business and need to carry out a dilapidations project as per your contract agreement – contact us today on 01933 460422 to discuss your requirements with our expert team.