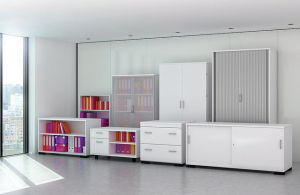 A tidy work space will promote greater efficiencies and pride within your staff, as well as improving the aesthetic of your office or stores area.  Needless to say, there are also significant health and safety considerations when stationary and office goods are not properly stored!
A common cause of complaint for office users is lack of storage, feeling overcrowded or cluttered and disorganised work stations.  These complaints all contribute towards workplace stress and dissatisfaction, with clutter bombarding our minds with excessive stimuli, causing a sensory overload and contributing towards fatigue.  An untidy workspace also conjures up feelings of anxiety as the mind isn't given the space to relax and become creative, making us feel as though we will never get to the bottom of our work load!
Even in the smallest of offices, storage measures can be put in place to help eliminate some of the untidiness and disorganisation.  High density storage cupboards can double up as partitions where necessary with floor to ceiling cupboards also utilising available space effectively.  Mobile shelving is a great way of storing larger volumes of document files and effectively offers greater storage potential in smaller areas.
Under desk pedestal units are another great way of storing employee's personal effects, and keeping them off desks, as well as small stationary items such as staplers and paper clips.  Being able to instantly lay your hands on a document or item when needed greatly improves employee motivation and productivity.  Is it time to Spring Clean your office environment?  Cubex Contracts are offering 3 for 2 across the storage range in our 2014 office furniture catalogue, for orders placed in March 2014.
For more information about Cubex Contracts  range of storage furniture or space planning services, contact us today on 01933 460422.