Your workspace reimagined
Inspire your employees with an office transformation

A new workplace aesthetic

Your new mezzanine has been installed… great!  Your glazed partition walls are up… fantastic!  And your new flooring is down… result!  There's just one thing missing… the finishing touches!
As part of all commercial fit out and refurbishment projects, Cubex include all painting and decorating works within our initial design proposals.  You didn't think we'd leave you with lacklustre walls, did you?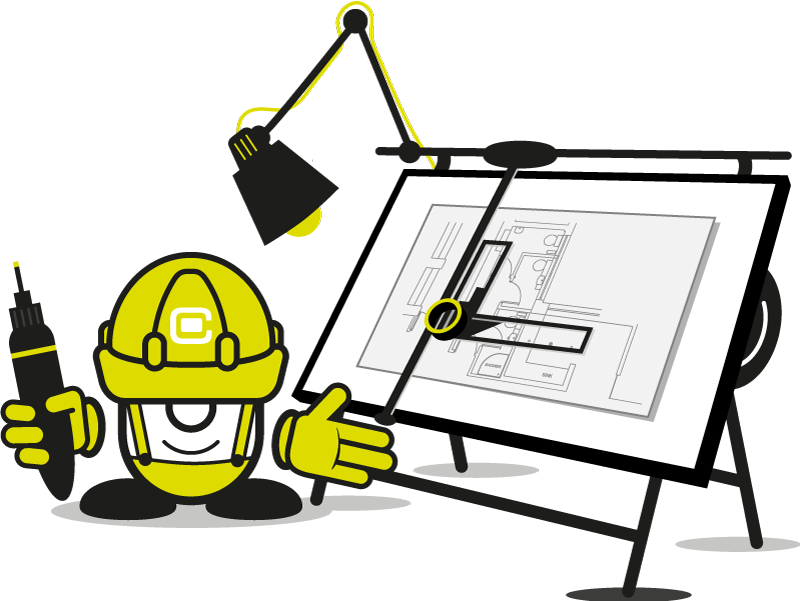 A team you can trust

Your working environment communicates to your customers, shareholders and team members, so you want to make sure it looks good.  Afterall, the modern workplace is more than just a space to work from – it is the environment which forms the basis of how your business operates.
But finding a reliable team of commercial painters and decorators is no mean feat, regardless of whether you're looking to refresh a small office space, revamp your retail store, or revive the tiresome walls of an industrial facility.  Plus, if you're had a team of contractors installing a new fire rated mezzanine for example, do you really want to find another, separate team to finish off the paintwork?  No.  We didn't think so!
No warehouse too big, no office too small
When you partner with Cubex, rest assured that every stage of your commercial refurbishment will be planned with care and executed with precision.
And, once the nuts and bolts of your fit out project have been designed and installed, our team of experienced and skilled decorators will paint your workspace, big or small, without disturbing the day-to-day operations of your business. 
A lick of paint can do wonders

If you've just moved into a new commercial premises and want to make it feel more welcoming and branded to your business, a fresh coat of paint will do the trick!  And, likewise, if you want to refresh the interiors of your existing workspace with a colour boost, the same solution applies. 
One of the most common reasons a company has for painting and decorating their workspace is to improve the overall image of their business.  But did you know a new coat of paint can also instigate positive change and energy among your employees? 
Workspaces with peeling, fading, scuffed or stained paint is not a precedent you want to set for your company.  But a lick of paint can transform your daily working area into a fresh, modern and vibrant space that your team want to work in. 
Refurbishment Essentials

From refreshes to complete overhauls, we provide commercial refurbishment services that revitalise working environments.  We've been putting our fit-out expertise to good use over the last 25 years, transforming traditional offices into contemporary working areas.  We're not just handy with a tin of paint, you know? 
Mezzanine Flooring Installation: Mezzanines are an additional level installed in an office, retail or industrial building to increase operational space (think of it as a ''floor between floors"). 
Partitioning: Many employees have a tough time concentrating in open spaces which creates the need for smaller, quieter and private working areas.  Here at Cubex Contracts, we specialise in an array of partitioning systems including composite, glazed, sliding, stud and jumbo stud. 
Ceilings: Commercial ceilings help create an enclosure and separation between spaces, controlling the diffusion of light and sound around a room.
Flooring: Commercial flooring has the power to transform the overall look and feel of a space.  From an oak-effect vinyl to a stunning-coloured carpet tile, each style offers its own practicalities and benefits.
Space Planning: There are many benefits to taking a strategic approach to space management including reducing vacant space, saving operational costs and improving staff collaboration.  Not to mention the storage, security and sound attenuation benefits too.
Office Furniture: Looking for office furniture?  Look no further!  On top of our creative design approach, we also supply a wide range of quality office furniture including height adjustable desks and ergonomic chairs!
There's no one-size-fits-all when it comes to a workplace refurbishment.  In fact, the cost of an office or warehouse fit out differs from project to project as no two workspaces are the same, and customer requirements always differ too.
If you're considering a workplace refurb for your office or industrial unit, why not try our Project Estimator to better determine the cost of your project?  Or better yet, get in touch to arrange a site visit and we'll provide you with a precise quote that will tick all of your space needs boxes.
By the way, many companies prefer to spread the cost of their workplace refurbishment project over a period of time, rather than take a hit on the upfront capital cost. That's why we work with a specialist leasing company to give our customers the flexibility of options. If you think you might be interested in a lease option, let us know and we can liaise with our chosen lease company at quotation stage.
You'll be in good company when you partner with Cubex
From need to solution, we're in it for the duration.  We do everything from ceilings and flooring to partitioning and furniture – not forgetting painting and decorating too.  We really do provide a thorough end-to-end service.  
But before we pick up our paint brushes, rollers and spray guns, we'll ensure your workspace is paint-ready; After installing ''the big stuff'' (an industrial mezzanine perhaps or a new meeting room), we'll ensure all surfaces are clean, fill in any cracks and remove old or flaking paint.  We'll also mix paints onsite to ensure we achieve your desired bespoke workplace aesthetic.
So, if you're searching for an experienced, forward-thinking commercial design and fit out company to maximise your workspace potential then you've come to the right place! 
Get in touch today and show your workspace some love with a Cubex makeover!