A fully flexible working office will need to consider a variety of aspects including privacy, acoustics, meeting areas, departmental layout and safety.  And in order to implement these key considerations into your own busy workspace, office partitioning systems are often a great solution!  Here at Cubex Contracts we regularly design and install commercial office partition walls to help our customers create unique and modern working areas that aren't only functional, but look good too.
We've reviewed the popular choices of sliding partitioning below – a functional, strong and statement feature for any workplace.  We've also reviewed stud, glass and other materials used for modern office partitioning separately which can be found on our blogs page.
Sliding Partitioning
Operating on a track instead of swinging open like a hinged door, sliding partitioning allows businesses to transform open working areas into separate, private and enclosed spaces effortlessly.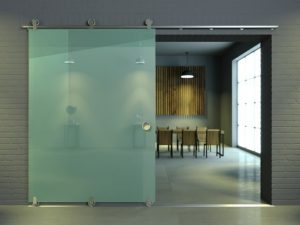 Saving space is crucial for businesses with ample staff, furniture, stock or equipment, and a sliding office partition door can be a great solution for smaller offices looking to make the most of space.  In fact, sliding office partitions (also known as sliding walls), offer multiple benefits including:
Aesthetics: Incorporating a sliding feature into any room, particularly a sliding glass partition, provides a sophisticated appearance and enhances the interior design of a space.
Sound attenuation: Acoustic membranes are incorporated into the material of your sliding partition to prevent outside noise coming through (and vice versa), keeping private meetings private.
To aid privacy, manifestations* can be added to internal glass partition walls to prevent others from looking in while you're sharing confidential data or hosting a one-on-one meeting.
Boost employee focus and productivity: With a smaller and private working area readily available with low sound transmissions, your team can improve their focus to hit deadlines and achieve more in the working day.
Cost effective: If your office is entirely open plan, there's no need to relocate or invest in solid walls; Simply install a modern partitioning system with a sliding element instead and keep the open plan feel whilst satisfying the need for a private room as and when required.
Maximise space: Without compromising on style, quality or square feet, you can transform the workspace to suit changing business demands. For example, a small meeting room for a confidential one-on-one discussion can soon be opened up into a larger space shared by several colleagues for collaborative working.
Increased ventilation: A sliding glass partition allows for natural light flow. Exposure to natural light, including through a transparent sliding partition door, can improve not just productivity among the workforce, but morale too).  Is there enough natural light throughout your office?
*Manifestation is a treatment that can be applied to glass windows, doors and partitions (and any other large expanses of clear glass for that matter) in order to make the glass visible, preventing injury through collisions.
Combining elegance and strength, a sliding office partition design can be paired with many architectural and interior design styles.  Choosing the right partitioning system for your office is no mean feat, but we think it's worth mentioning that the surface of a sliding glass partition can also be used as presentation space for practical meetings or war rooms… Pens and post-it notes at the ready!
Sliding Folding Partitioning
Guess what?!  There's another design option when it comes to your new commercial sliding partition!  Sliding folding partitions are also extremely popular for businesses looking to maximise the use of their office space.
With a range of custom-built hinged panel walls, sliding folding partitioning systems offer a combination of simplicity of movement and high-level acoustic integrity.  They can either be hung from a ceiling track or supported by a low-profile surface mounted floor track.  Either way, the partition slides along the track, folding into sections at each hinge (think of a panelled room divider you might have at home… they fold in a similar way).  The folding walls can be single parting and stacked at one end, or bi-parting and stacked at both ends… The choice is yours!
Sliding folding partitioning is a fantastic solution for hotels, conference centres, lecture theatres, large meeting rooms and other office environments looking to maximise the use of a space; The area can be divided up into two smaller rooms effortlessly, and then quickly and easily opened up into one big room for those Monday morning mingles or monthly Townhalls.  It's no secret that commercial space is often at a premium therefore it makes financial sense to maximise the use of what's already available, right?  Plus, modern office buildings also need to cater for an increasing range of activities and the subsequent demand for multi-functional workspaces.  Thankfully, a commercial sliding folding partition wall can be a cost-effective solution for both.
Similarly to sliding partitioning, sliding folding partitioning shares many of the multiple workspace benefits including sound attenuation, privacy and use of space.  Plus they look pretty great too!  Versatility is another important aspect to consider for the workplace; Being able to create a private space by simply pulling across a folding partition wall could be a beneficial addition to any office.  What's more, the design of your new sliding folding partition can also incorporate a glazed element and access doors.
Sliding and sliding folding partitioning systems can create a well organised office that encourages collaboration, promotes productivity and ultimately enhances style.  If you are looking for ways to make better use of space within your busy office, a new sliding partitioning installation could be the answer you've been looking for.  Regardless of the shape and layout of your workspace, Cubex are here to help!  We have over 25 years of experience designing and installing commercial partitioning systems in a variety of offices, retail stores and industrial warehouses.  So what are you waiting for?  Get in touch today and we'll work with you to transform unused, impractical and, dare we say, gloomy spaces into bespoke, bright, stylish and functional working areas, whilst adhering to your specific requirements and budget too.